Blueberries muffins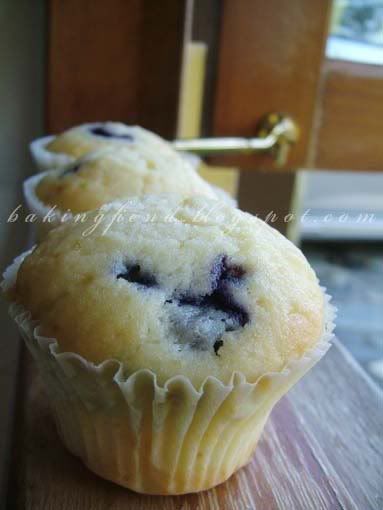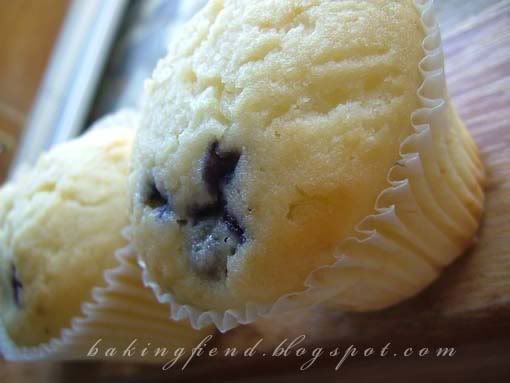 Needed to clear the fridge and found 2 boxes of blueberries in the freezer! So, blueberries muffins it shall be.....
love the smell of blueberries when it's baking... makes me so hungry!
Recipe is again modified from the strawberries white chocolate muffins... here's how....
what you need
200gm plain flour

20gm corn flour

2 tsp baking powder

2 large eggs

120gm sugar

110gm butter

1/4tsp salt

2 tbsp yogurt

50ml milk

1 tsp almond extract

blueberries.... the more the merrier!
what to do
Preheat oven to 180C.

Sift plain flour tog with corn flour and baking powder. Set aside.

Mix milk and yogurt tog in a cup. Set aside.

Cream the butter with sugar and salt till fluffy.

Add in eggs one at a time.

Add in almond essence. Mix till well combined.

Fold in 1/2 of the flour into creamed butter.

Add in 1/2 of the milk.yogurt mix and mix till combined.

Fold in 1/2 of the remaining flour mix and combine.

Pour remaining milk/yogurt into batter and combine.

Lastly, add in last bit of flour into batter and combine.

Also add in yr blueberries into the batter.

Place batter into liners/muffin cups till 90% full.

Bake at 180C for 25

mins

.
Edited to add : Me Bro

resurrected

the camera! there's only one shot of the muffin now... more pics will come

tmr

.
Labels: Muffins